Creepyworld 2017 - America's Biggest and Longest Haunted Screampark is back and bigger than ever. In 2017 Creepyworld will feature 13 haunted Attractions in one location including TWO all NEW haunted attractions including Trick R Treat Haunted Hayride and Quarantine World War Zombie. Creepyworld haunted Screampark is not only the biggest haunted attraction in St Louis but the biggest haunted attraction in America! When you visit Creepyworld 2017 be prepared to experience over an hour of sheer terror inside our 13 different attractions including Krampus, Silo-X, Hornbuckel Pig Farm, Doll House, Haunted Graveyard, Carnivorous in 3D, Dark Zone, Haunted Hayride, Evil Dread, Supermax, and Haunted Hospital plus the Hollywood Pumpkin Display and the Worlds only all dead Zombie Band.

Creepyworld will feature TWO all new attractions in 2017.




Last year CREEPYWORLD FEATURED TWO ALL NEW HAUNTED HOUSES including 'Krampus A Christmas Horror Story'. In 2017 we will offer two new haunted attractions including Quarantine World War Zombie and Trick R Treat Haunted Hayride.

Quarantine World War Zombie puts you inside a secret military base where experiments have gone wrong. You're in the middle of a WAR between humans and zombies.
Will you survive? Can you save the World from infection?

Are you ready for the scariest new attraction ever created at Creepyworld?





Trick r Treat Haunted Hayride is all-new at Creepyworld for 2017. This Halloween you find yourself trick R treating in the wrong neiborhood. You took a wrong turn and now there is no turning back. Every house has a killer inside, every house is haunted and every house wants you DEAD! Travel thru the worst and scariest neiborhood in St Louis, where killers are waiting for you to knock on the door. Trick R Treat Haunted Hayride is the best haunted hayride we've ever created complete with digital FX, animations, special FX and Hollywood quality sets and scenes.

Trick R Treat haunted hayride is included in all online tickets sales saving you $5.00 per person. Tickets online with hayride are $29.95 at the door $35.00. BUY TICKETS ONLINE AND SAVE MONEY AND TIME WAITING. CLICK HERE TO BUY TICKETS NOW!



Creepyworld also features all new scary photo ops so bring your phones as you'll find several scary stops to take pictures. Share your pictures on instagram and facebook using hashtag #creepyworld. Creepyworld also features food, drinks, and live music from the World's only all dead band.
Additionally Creepyworld features a World Class Carved Pumpkin display.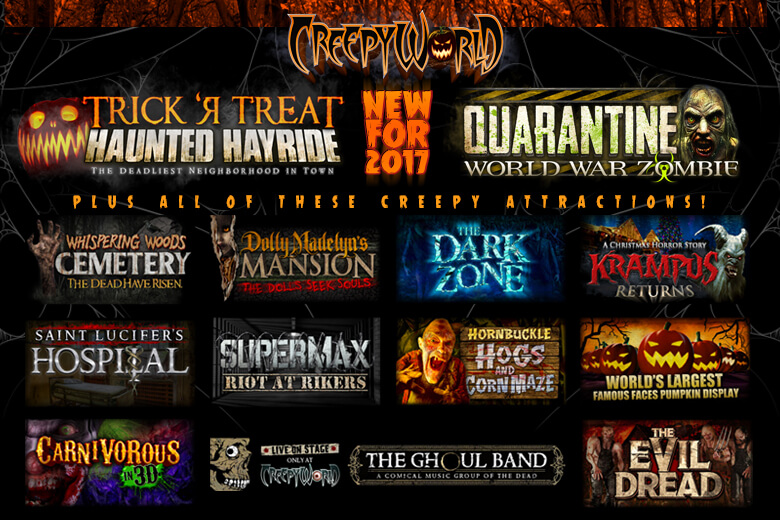 Every year Creepyworld gets bigger, scarier and better than the year before and 2017 is no exception. Are you ready for over ONE HOUR of SHEER TERROR? We strongly suggest you buy your tickets online. Creepyworld is the biggest, longest and best haunted Screampark with 13 attractions in one location. Even though we add entire new haunted houses each year we also make our older ones scarier. Get your tickets ONLINE and save time at the box office.
2017 will be the biggest YEAR OF FEAR at Creepyworld ever!
Creepyworld is without any doubt the biggest, longest, and best value in America not to mention St Louis!
We'll see you at Creepyworld 2017... fear is here at Creepyworld Haunted Screampark!
BUY TICKETS ONLINE AND SAVE TIME AT THE ATTRACTION



WATCH THE CREEPYWORLD 2017 PROMO VIDEO BELOW



WATCH AN OVERHEAD VIDEO TO SHOW JUST HOW MASSIVE CREEPYWORLD REALLY IS!
THE SECOND VIDEO IS A COMPLETE WALK THRU OF CREEPYWORLD 2016